Trip out to Horseshoe Hammond Casino
Horseshoe Hammond Casino: Whether or not you gamble, consider Horseshoe Hammond Casino the next time you are looking for a fun escape for a day trip or an evening out. It is more than just a casino. The complex offers live entertainment, restaurants, and activities in an easy to get to Indiana spot which is just outside the city of Chicago.
Horseshoe Casino was originally opened as Empress Casino in 1996 as a 54,000-square-foot (5,000 m2), four-level gaming vessel. Horseshoe Gaming Holding Corporation was established in 1993 as a private holding company mostly owned by Jack Binion. In 1999, the corporation acquired Empress Casinos, including both the Hammond property and another Empress Casino in Joliet, Illinois. After selling off the Joliet property in 2001, the Hammond property was re-branded as Horseshoe Casino Hammond on May 4, 2001. In 2004, the corporation was sold to Harrah's Entertainment (re-branded as Caesars Entertainment in 2010), who oversaw a 2-year construction of a new boat. The current casino facility, a gaming vessel designed by Friedmutter Group beginning in 2006, was opened on August 8, 2008.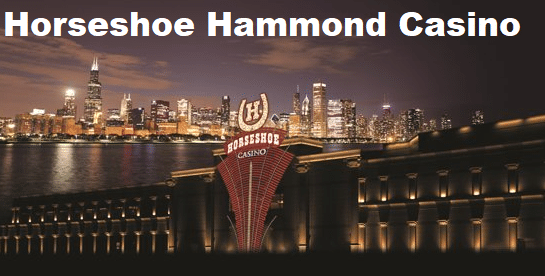 In October 2017, ownership of the property was transferred to Vici Properties as part of a corporate spin-off, and it was leased back to Caesars Entertainment.
Facilities
The vessel has two public floors, including the main gaming floor with a special high limit, poker, and Asian gaming areas, 2 feature bars, and a VIP lounge, as well as a second floor with a 3,400 capacity entertainment space, and an updated Village Square Buffet. The vessel is adjacent to the main pavilion with multiple food outlets including Jack Binion's Steakhouse, as well as a gift shop and ballroom/meeting facilities.
"The Venue" is Horseshoe Casino's entertainment space which also functions as an area that can host any type of event. The 90,000-square-foot (8,400 m2) space was designed by Canadian designers Sceno Plus, who is best known for designing all of the Cirque du Soleil theaters in the United States as well as the Coliseum at Caesars Palace. Though the standard setup is 2,500 theater-style telescopic seats, the versatility of the room allows those seats to be pulled back for a full general-admission room that can be set up for more contemporary rock shows, as well as function as a banquet and trade show facility. The Venue opened on the same day as the casino on Aug 8, 2008, with a midnight Asian show featuring Andy Hui and William So, and held several more grand opening concerts that same weekend, including Bette Midler, Alicia Keys, Smashing Pumpkins, Mo'Nique, and James Blunt. More than 200 shows were produced in The Venue in the first three years, and additional activities included The Great Midwest Smokeout, as well as the Chicago Circuit Championship of the World Series of Poker.
The casino has a staff of over 2,200 employees.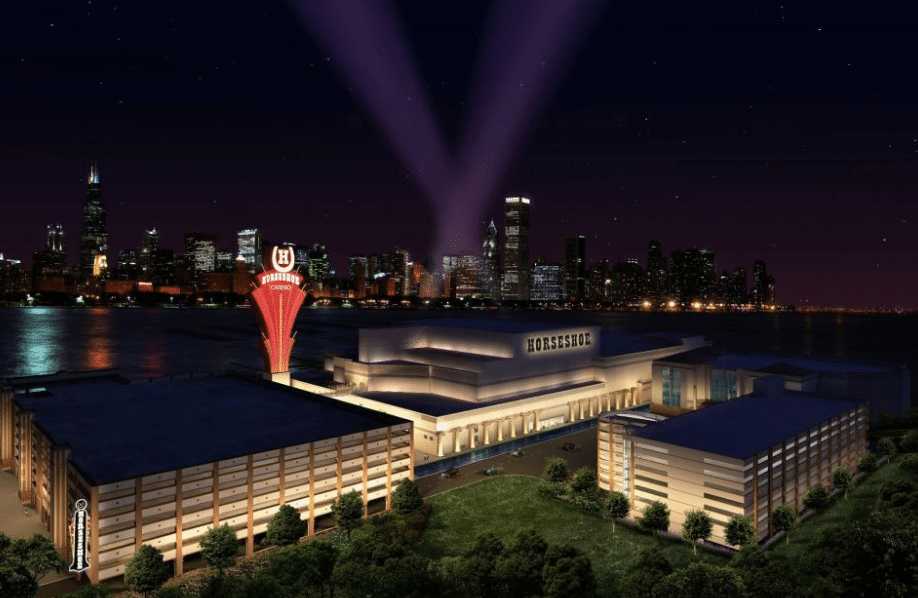 Gambling
Horseshoe Casino has over 350,000 square feet (33,000 m2) of gaming space, and currently has over 3,000 slot machines (including over 250 video poker machines) and 100 gaming tables. The high limit gaming room features 125 machines in denominations up to $1,000 and is centered around an acrylic horseshoe statue, the second largest acrylic statue in the United States behind Tiffany's at the time of the opening in 2008.
Horseshoe is home to the largest poker room in the Midwest, featuring 34 tables at all limits, and including a private poker area, Benny's Back Room, named for the founder of the original Horseshoe in downtown Las Vegas, Benny Binion.
Horseshoe has consistently branded itself as the home of the highest limits. Benny Binion, on opening the original Binion's Horseshoe in Las Vegas, was the first to institute high table limits. The craps table limit of $500 was ten times higher than any other casino in Las Vegas, and eventually, Binion raised the limit to $10,000 and even eliminated table limits at times.
Horseshoe regularly hosts poker tournaments, including the World Series of Poker Chicago Circuit Event and Chicago Poker Classic. The WSOP Circuit Event is the largest in the United States.
Ideal Location
Horseshoe Hammond is actually located in Indiana, but your best bet for traveling there is through Illinois because of the proximity to Chicago and transportation options. The casino actually provides free shuttles from various locations around the Windy City. While there is no hotel here, they have arranged deals with a number of Chicago hotels, including the Hyatt Regency at McCormick Place, Sheraton Chicago, and the Hyatt Regency on Wacker, so you can make a vacation out of it. ​We recommend checking the official website for updated information on the complimentary area shuttles.
Staying in Hammond, Indiana, may seem like a better option, but it isn't necessarily. Check the distance and directions before you book a Hammond hotel that because you may end up with a long car or cab ride. None of the "local" hotels are within walking distance of the casino.
For a really scenic trip to the Horseshoe Casino, sail into Hammond and park at the marina, which is attached to the complex.
Top Concerts & Events
The Venue at Horseshoe Hammond is a fantastic facility that attracts top names for concerts that appeal to all groups. Some performances held there include Staind, Journey, Gladys Knight, and The Band Perry. You'll also find comedic performances like Chris Tucker, David Spade, and Penn & Teller on the stage. Check the calendar to see what's coming up there.
Also, keep an eye out for events being held at this complex. The Brews at the 'Shoe is an annual beer festival held each March and Horseshoe hopes to add more yearly events in the near future at this Indiana hotspot.
An Array of Food
The top draw when it comes to meals at the Horseshoe Hammond is definitely the acclaimed Jack Binion's Steak House. In addition to a fine dining experience, the restaurant offers beautiful views of the marina. On a clear day you can even get a good look at the Chicago skyline while you feast on some of the best beef the Midwest has to offer.
Other options for food here include the popular Village Square Buffet, JB's Gourmet Sandwiches, and Foo Noodle Bar for authentic Asian cuisine. The Sixth Street Bar also offers a selection of craft beers and snacks in a casual atmosphere.
For drinks and dancing, you'll want to check out Push Nightclub, which has a DJ spinning tunes every Saturday night.
VIP Experience
The Seven Star Lounge is reserved for the casino's top guests, whether it's a celebrity, a frequent visitor, or a top roller. At this Horseshoe Hammond location, you'll find complimentary food and drinks in the lounge during evening hours. The wine and liquor selection is huge and contains just about anything you can think of. The service is also top-notch and the bartender can also provide you with a fine cigar if you wish.
Horseshoe Indiana also offers VIP suites for their concerts. You can watch a show while you mingle with a small group of other guests (or rent out a suite of your own).
The suites include food and drinks throughout the performance. Prices are very reasonable for these rooms.\
A Variety of Gambling Options
This is, after all, a casino and you'll find nearly every gaming option you can imagine at Horseshoe Hammond. While there are 1,500 penny slot machines here, you'll also see machines that take up to $1,000, as well as Blackjack, Roulette, Craps, and Poker.
Le Cheng, a large Asian gaming room, is designed to take you to Silk Road with décor direct from China. Le Cheng includes Pai Gow Tiles, Big Baccarat, Mini-Baccarat Dragon Bonus, and an EZ Baccarat room.
Are Drinks Free At Horseshoe Casino?
Are the beverages free at this Casino? … Yes, drinks are free if you are gambling at the tables or the slots.
Who Owns The Horseshoe Casino?
Caesars Entertainment Corporation
Horseshoe Casino Baltimore
/
Owners
Does Horseshoe Casino Have A Hotel?
Horseshoe Casino Baltimore is now home to Maryland's first-ever Topgolf Swing Suite® experience! … Horseshoe Casino Baltimore is now home to Maryland's first-ever Topgolf Swing Suite® experience!
When Was Horseshoe Casino Built?
5