Aqueduct Casino – New York City
Aqueduct Casino: Aqueduct's casino, Resorts World Casino New York City, opened in November 2011. The casino is a "racino," which means it's video slot machines, attached to the Aqueduct Racetrack.
Resorts World Casino NYC is synonymous with free shows by the best, local live- bands and top DJs at Bar 360. On weekend nights, the bar is the definition of city nightlife as we showcase local radio DJs and special performances by award-winning artists.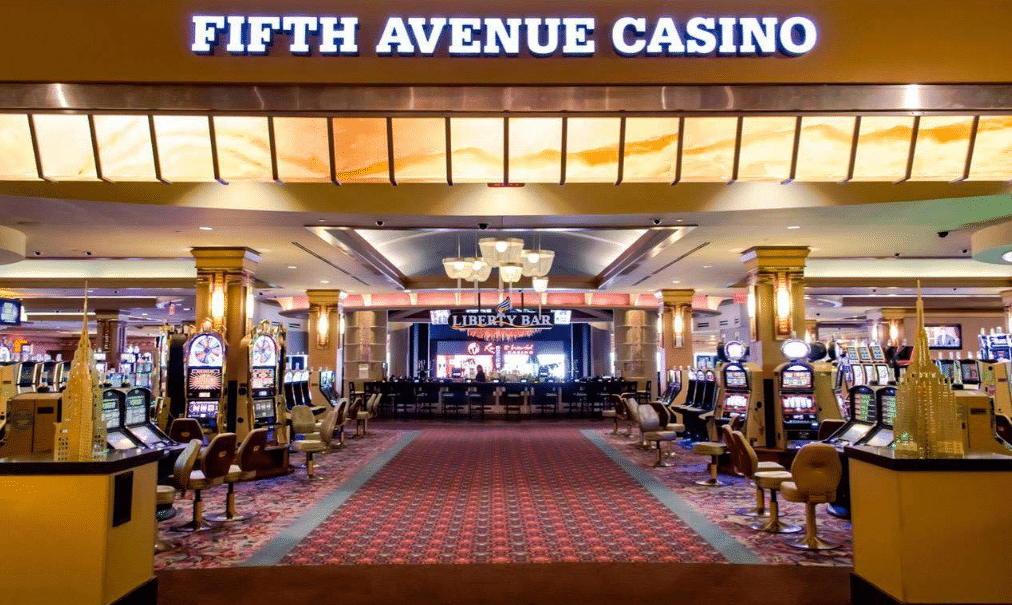 Gambling
Resorts World Casino in New York City has some 5,000 video slots and gaming machines. It is not a full casino, but a racino.
The video slot machines include regular slots, both with buttons and levers to pull. Play bets starting at 1 cent to $1 and much more. There are video versions of poker, blackjack, baccarat, and other card games.
There are electronic game terminals where you can play roulette, Sic Bo, and craps. There are no dealers. You see the wheel spin (or the dice roll) virtually on your video screen but also a real wheel and ball in an enclosed sphere. No human hands touch the wheel (or dice).
Resorts World Casino has a membership program, Genting Rewards, through which you can earn discounts on food and other rewards.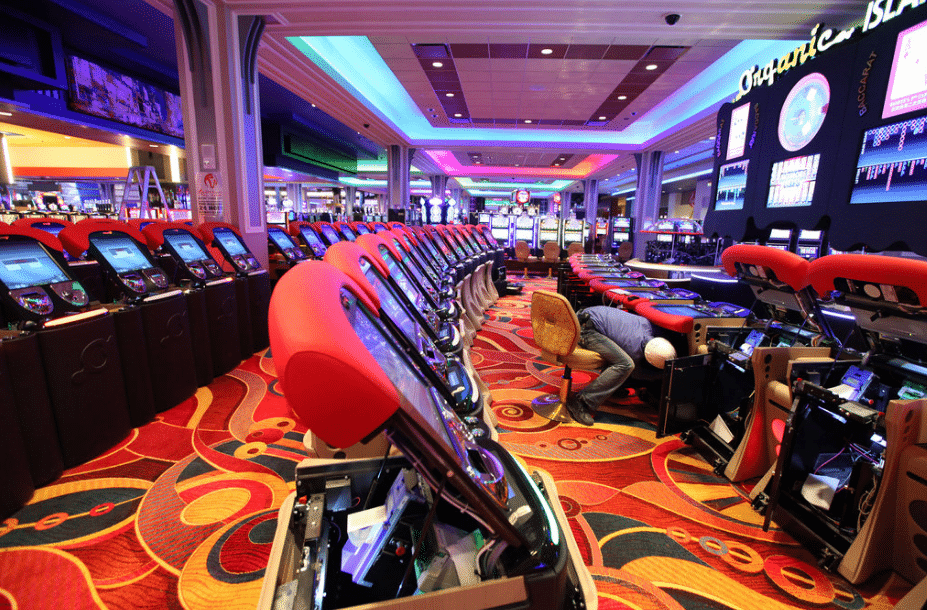 Food and Drink
The casino has a buffet, food court, a bar, and two upscale dining choices. None of the dining options are free, but there are often discounts for members of the rewards program. There's a dim sum restaurant called Genting Palace with windows overlooking the racetrack. RW Prime is a steakhouse and wine bar. The food court offers Chinese (including noodle soups and congee), hamburgers (similar to 5 Guys, but slow), Mexican food, coffee, ice cream, deli, and a Wolfgang Puck's Express with pasta and pizza.
Hotels
There is no hotel nor any sleeping accommodation at the Aqueduct casino. The casino closes at 4 a.m. every day. There are many hotels serving JFK Airport within a short drive.
Getting to Aqueduct Casino
Aqueduct is officially at 110-00 Rockaway Blvd, South Ozone Park, NY 11420. The easiest route by highway is from the Belt Parkway. Take exit 19 if east-bound or exit 18-B if west-bound. Then follow the signs to Aqueduct. It's the largest building and hard to miss.
Parking
Parking is free at Aqueduct. There's a parking garage with multiple levels attached to the casino. This is usually the easiest access to the casino. There are also outdoor parking lots, and you can catch a shuttle bus or walk to the entrance. Note that the casino entrance is next door to the racetrack entrance.
Subway and Bus
The A subway stops at Aqueduct. Note that the A subway line splits and only the Rockaways-bound A stops at Aqueduct. Take the Aqueduct North Conduit stop. There's a free shuttle bus to take you to the casino.
On horse racing days, the Aqueduct Racetrack station is open only for northbound travelers. A walkway to connect the station and casino is under construction (January 2012).
There is no train (no LIRR). The closest connection is the JFK Airtrain at Howard Beach. Take the A subway one stop to Howard Beach to reach the Airtrain.
The Q37 bus stops at Resorts World Casino. The area is also close to the Q7, QQ7, Q11, Q37, and Q41 buses.
What's Near Aqueduct Casino?
The casino borders the neighborhoods of Ozone Park and South Ozone Park, along with JFK Airport. South Ozone Park along with neighboring Richmond Hill has a stretch called Little Guyana, the epicenter of Indo-Guyanese and Trinidadian life in New York City.
Aqueduct Racetrack
The racetrack is connected to the casino. You can walk between the casino and the betting floor for the horse racing during the Aqueduct season. Gamblers can also easily step out on the large balcony and watch the horse races.
What Casinos Are In New York City?
Casinos in and Around New York City
01 of 09. Resorts World Casino at Aqueduct.
03 of 09. Mohegan Sun Casino.
04 of 09. Foxwoods Casino Resort.
05 of 09. Empire City Casino.
06 of 09. Sands Casino Resort Bethlehem.
07 of 09. Mount Airy Casino Resort.
08 of 09. Parx Casino and Racing.
09 of 09. Mohegan Sun at Pocono Downs.
Who Is The Owner Of Resort World Casino?
Empire Resorts is owned primarily by billionaire KT Lim, the chairman of the Malaysia-based Genting, which is one of the world's casino giants. Genting owns Resorts World New York City in Queens — the largest gaming hall in the country.
How Old Do You Have To Be To Go To Resorts World Casino?
Guests must be at least 18 years old to play video gaming machines. Please be sure to bring a valid photo ID in the event you are asked to provide proof of your age. No children under the age of 18 are allowed to enter the facility.
How Many Casinos Are There In New York State?
There are two casino lists below. The first is an alphabetical list of the 16 New York Indian gaming operations. That is followed by a second list of New York state-licensed commercial casinos.