Mohegan Sun Casino Hotel
Mohegan Sun Casino: One of two eastern Connecticut Indian casinos (Foxwoods is the other), Mohegan Sun has evolved since its 1996 opening from a day-tripper's destination to a complex with enough dining and activities options to keep a couple occupied for a few fun-filled days.
Mohegan Sun's gambling space totals 350,000 square feet and the facility encompasses 80 shops, bars, and restaurants plus a 1,200-room hotel.
Ensuring guests won't go hungry, eateries at Mohegan Sun ranges from fifties-diner Johnny Rockets to Todd English's sophisticated Tuscany. And you need not be gamblers to venture here; a spa, swimming pool, and shopping arcade provide alternate activities.​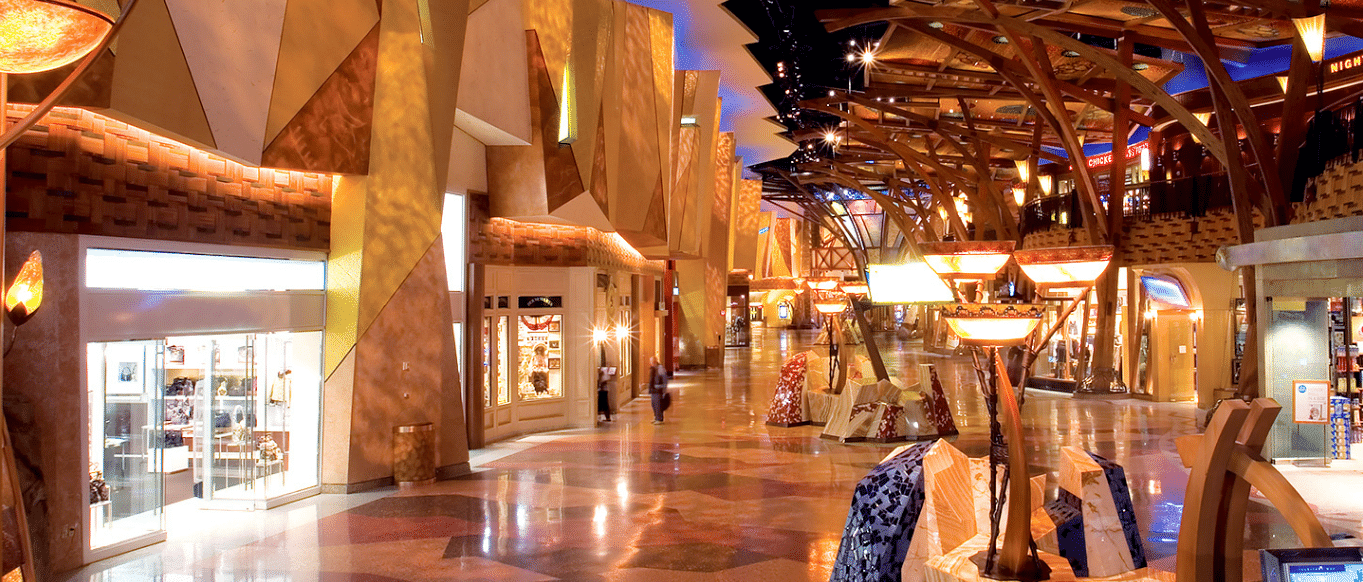 A pretty place with eye-candy décor, Mohegan Sun's visual themes riff on the natural elements and Mohegan Indian symbolism, which includes images of wolves, turtle shells, and turkey feathers. The property stimulates the senses with sound (rushing waterfalls); color; and even art. A magnificent Dale Chihuly glass sculpture is a towering centerpiece.
Mohegan Sun Accommodations
The 1,200 guest accommodations (including 175 suites) at Mohegan Sun are large and comfortable. Even the smallest quarters measure 450 square feet. Rooms' beige and navy palette is warmed with a wooden desk, headboard, drawers, and other accents.
Two bedside clocks provide both military and AM/PM time. Flatscreen TVs with HBO, ESPN, and movies both Hollywood and adults provide in-room entertainment. Internet connection is available via Ethernet; a daily fee is tagged onto rooms.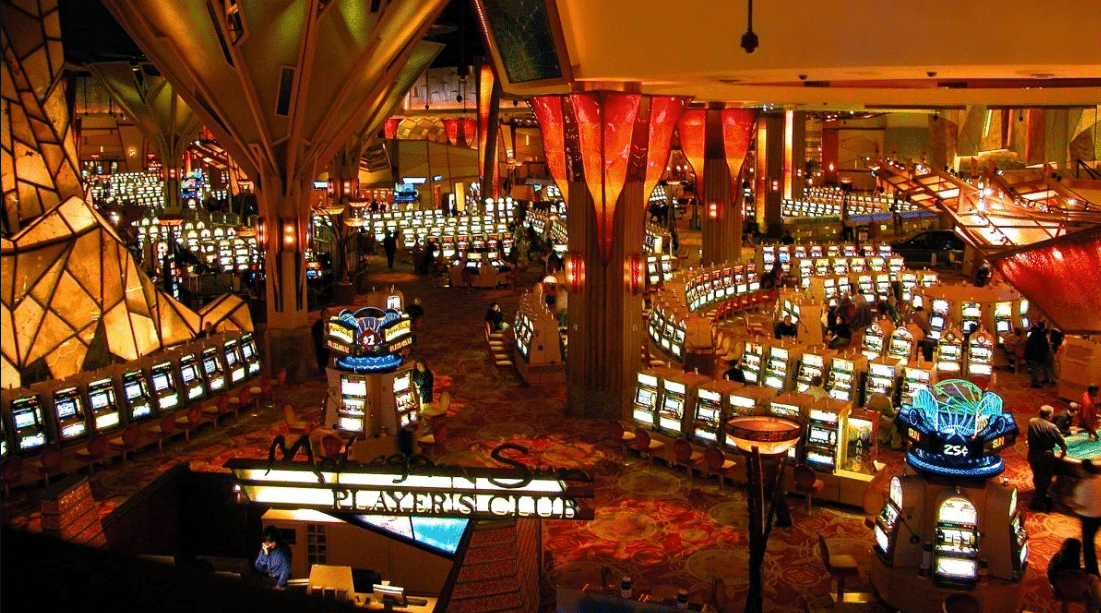 The equally spacious bathroom has twin sinks sunk into polished black-granite countertops, a magnifying makeup mirror, terry cloth robes big enough to fit Americans, and a separate shower and bathtub. A basket offers a nice selection of amenities including items you don't ordinarily come across: Woolite, extra toothbrushes and toothpaste, a shaving kit, even bath salts are provided in addition to the standard shampoo, conditioner, and lotion.
When booking, do request a river view. Mohegan Sun is located beside the Thames River and views of the woodland hills are lovely in every season; parking lot views are less so. Both smoking and non-smoking rooms are available.
There are also a number of nearby hotels to choose from.
Mohegan Sun Restaurants
Although Mohegan Sun has numerous restaurants, there are three where a couple can have a fine-dining (as opposed to casual or quick-eating) experience. Bar Americain is a stylish restaurant located closest to the hotel. Todd English's Tuscany restaurant is his take on Italy's northern cuisine; it's located next to a thundering indoor waterfall. Michael Jordan's Steakhouse pays tribute to the basketball star and caters to sporting types with big appetites.
The food at Michael Jordan's is deeply flavorful. Although most tables in the restaurant are freestanding in the center of the room, there are also cozy enclosed tables accented with pillows.
The signature garlic bread with blue cheese dipping sauce is so buttery good that you could make it your entire dinner. There are so many yummy-sounding sides on the menu you might be tempted to skip the entree and forgo what mom might have called a balanced meal. Sides include lobster mashed potatoes; macaroni and cheese carbonara with peas, prosciutto, parmesan, and herbed bread crumbs.
The main dishes at this meat-oriented restaurant include seared sea scallops, which are presented cooked to order and tasty. Desserts are something of a let-down, but you won't have much room left after dinner and can always make a visit to Ben & Jerry's and Krispy Kreme donuts afterward.
Mohegan Sun Weddings
Mohegan Sun doesn't hold many wedding ceremonies (there is no chapel). Couples are more likely to choose it as a venue for a rehearsal dinner, bachelor or bachelorette party, or wedding reception. Several restaurants contain private dining rooms.
The vast, two-floor convention center has numerous rooms that can be customized to create a romantic look, but couples may not want to site a friends-and-family event in such a busy and business-oriented space — unless they take it over entirely. Mohegan Sun could accommodate a wedding party as large as 1,300 in its Uncas Ballroom.
Intimate Wombi Rock in the Leffingwells Martini Lounge (underneath Planetarium Dome) is a better choice. The sexy, glassed-in private space looks down upon the casino. It's named after a nearby spot where tribal Mohegans once gathered — but we doubt the original contained stylish burgundy velvet chairs and a private bar as the casino-hotel's version does.
One major point of distinction that couples planning a wedding should know about is the services of the executive pastry chef. He is listed in the Guinness Book of World Records for creating the world's biggest wedding cake. Not only are his creations big; they are works of art.
To find out about holding an event, contact convention services or the catering department at Mohegan Sun.
Mohegan Sun Honeymoon and Romance Packages
Yes, you can plan a romantic stay at a casino hotel.
Sensualists can opt for a Ceremony of the Strawberry Moon in Elemis Spa at Mohegan Sun. It features a petal-strewn bath for two, champagne, and a couples massage lesson. An actual couples massage in a dedicated room for two is an optional add-on.
To further induce couples to visit, the casino hotel offers several romance packages which can include:
Hotel accommodations
VIP Hotel Check-In
Chocolate covered strawberries delivered to your room
Rose petals in room
Martinis at Leffingwells Martini Bar
Couples massage at Elemis Spa
In-room movies
Mohegan Sun Activities and Entertainment
Gambling is of course Mohegan Sun's raison d'etre, and there are three vast gaming areas where visitors can try their luck on 7,000 slot machines; belly up to 350 table games including craps, roulette, baccarat, and blackjack; pick numbers for keno; bet at the racebook, and hope for a straight flush in the poker room.
Casino areas are so big that navigating through them can be disorienting (although there is plenty of staff around to give directions).
Budget-sensitive blackjack players and beginners have an entire pit where the minimum bet is $5 per hand. Feeling luckier or more flush? Tables for $15, $25, and $50 also beckon.
Note that the minimum age for gambling in the state is 21 and the casino has both smoking and non-smoking areas.
Performances at Mohegan Sun
During weekends, holidays, and the summer months, Mohegan Sun draws well-known entertainers to perform in its 10,000-seat Mohegan Sun Arena. Most performers who hit the stage are of the vintage that appeals to baby boomers ​and includes performers such as Carole King and James Taylor, Simon and Garfunkel, Ringo Starr, Michael Buble, and Reba McEntire.
Nearby Mohegan Sun
There's a lot more to explore beyond the casino. Couples who enjoy the game of golf can play at Mohegan Sun Country Club at Pautipaug, an 18-hole course about 20 minutes from the casino. Transportation can be arranged for hotel guests.
If you simply want to go outside to revel in nature, head for Shantok Park, about 2-3 minutes away by car. It's popular with locals and has trail, ponds, and fields.
Those with a broader range of interests (and a car) are likely to appreciate a visit to Mystic, Connecticut. The coastal town is just about 15 minutes away and engages couples with its seaport, aquarium, downtown, and wineries.
Mohegan Sun Drawbacks
Despite its evocative name, Mohegan Sun doesn't offer guests much access to the sun or Connecticut's lovely scenery. Aside from a terrace off the pool area, there's no outdoor space where couples can stretch out and relax.
In guest rooms, Mohegan Sun mini-bars are the obnoxious weight-sensitive variety. That means you can't remove an item without automatically being charged for consuming it, nor can you use the fridge to cool your own items. Advice: Avoid using the mini-bar under any circumstances.
Rooms are furnished with ice buckets and bottled water (the latter is included in a must-pay daily facility fee that includes access to the fitness center and pool area, high-speed wired Internet access, and delivery of USA Today). Drink the bottled water instead of opening the minibar to avoid having to inform the checkout clerk that the Mars bar you merely removed from the minibar to check its calorie count and then replaced does not belong on your bill.
Two areas where Mohegan Sun falls short of delivering a truly romantic experience: There is no evening turn-down to prepare the bed for sleeping. And although bathrooms have a nice jetted tub and the hotel generously provides bath salts, tubs are only big enough for one — so you'll have to take turns or shower together.
Mohegan Sun Vibe
Mohegan Sun is a good-time place. Arrivals come with high hopes, and even if the house beats them in the casino, the rewards of a good meal, a comfortable room, ample window shopping, and perhaps a spa treatment are enough to compensate for a small gambling loss.
Since this is a place where great sums of money are won and lost, security is essential. You'll feel safer knowing that no one without a pass or key card gets admitted to the hotel elevators.
The property is particularly popular with baby boomers, but there are also younger parents and grandparents with kids in tow. The pool is often half-occupied by children.
Nonetheless, Mohegan Sun is great for a brief escape, especially if you add in a couples massage, dinner at one of the property's better restaurants, and a visit to Mystic for a sweet gambling-and-rambling getaway.
Mohegan Sun Info and Reservations
Mohegan Sun
1 Mohegan Sun Blvd.
Uncasville, CT 06382
888-226-7711
Primarily a driving destination, the casino-hotel is located close to Interstates 95 and 395.
Guests who arrive by train to Amtrak's New London station can arrange with the hotel to send a car or limo for the 20-minute ride. Greyhound buses can transport train passengers to the resort and taxis are also available.
As is common in the travel industry, the writer was provided with some discounted services for review purposes. While it has not influenced this review, About.com believes in full disclosure of all potential conflicts of interest. For more information, see our Ethics Policy.