The Royal Beach Casino – Complete Guide
Royal Beach Casino: It's been a couple of years since I last visited The St. Kitts Marriott Resort and The Royal Beach Casino, but I love it so much I'm heading back there later this summer. Maybe I'll see you there. The resort is located in Frigate Bay (doesn't that name stir your juices?) on the southern shore of the island, and it successfully captures the essence of this relaxing and romantic Caribbean island destination.
Situated on a pristine beach with a championship golf course and the largest Vegas-style casino in the Caribbean, it's the stuff dreams are made of. Me? I love the islands, and St. Kitts is my favorite. The Marriott Resort there is one of those unparalleled vacation spots: wide sandy beaches where the palm trees sway and the sounds of a steel band wafts gently across the island. The resort is a full-service family venue that boats a world-class spa, extensive meeting facilities, eight restaurants, three lounges, and an outstanding Kids Club program, all of which make it the ideal destination, not only for families and couples but for corporate organizations too.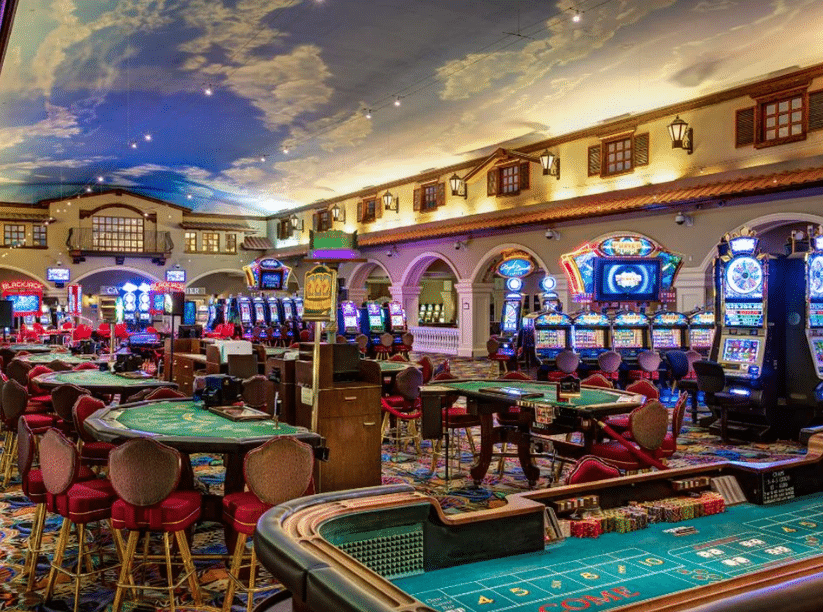 St. Kitts is situated in the northern Leeward Islands of the Eastern Caribbean separated by a two-mile-wide channel from its sister island, Nevis. The island's capital city, Basseterre, one of the oldest cities in the Caribbean, is located on the Southeastern side of the island. St. Kitts is in the Atlantic Standard Time Zone, which is one hour ahead of Eastern Standard Time in the winter. Daylight savings time is not observed.
Accommodations
The St. Kitts Marriott Resort is an ultra-modern hotel with 393 guest rooms and luxury suites. The main building, the Frigate Bay House, features guest rooms and one-bedroom suites with traditional West Indian accents. Read a full review of the St. Kitts Marriott Resort Accommodations.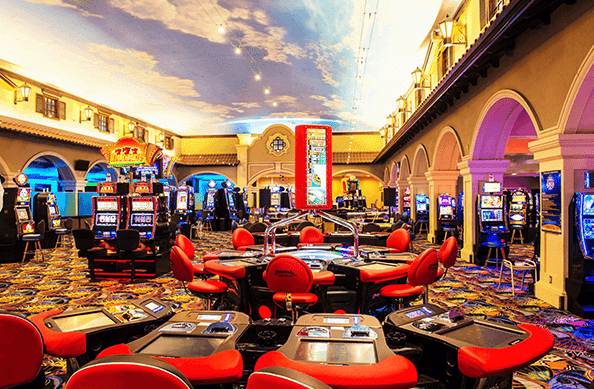 The Royal St. Kitts Golf Course
The Royal St. Kitts Golf Club has the only golf course in the Caribbean with holes on both the Atlantic Ocean and the Caribbean Sea. The layout is a stunningly beautiful 18-hole, par 71 championship "links"-style course originally designed by five-time Open Champion, Peter Thompson. In 2003, the golf course was remodeled by Canadian architect Thomas McBroom who took full advantage of St. Kitts' natural terrain to recreate what must be one of the finest courses in the entire Caribbean. For a full review and photos, go to Royal St. Kitts Golf Course.
The Royal Beach Casino
The Royal Beach Casino is the largest casino in St. Kitts. The Royal Beach Casino's Vegas-style rules make it a favorite for avid gamers. Read a full review of The Royal Beach Casino.
The Emerald Mist Spa
The Emerald Mist Spa is a 15,000-square-foot facility offering a full range of beauty, health, and therapeutic treatments. The spa features separate men's and women's locker rooms, eight treatment rooms including two wet rooms, five dry rooms, and one couples' room with a private Jacuzzi. The spa's salon can accommodate private groups of up to 13 people for manicures, pedicures, and hair services. Read the full review of The Emerald Mist Spa
The St. Kitts Marriott Restaurants
Dining options are always a major consideration when choosing a vacation resort, and the St. Kitts Marriott Resort nicely fulfills most of our needs and wants via eight on-site restaurants serving a wide variety of culinary choices. From fine to casual dining, including a steakhouse, an Italian restaurant, and even a pizza parlor, there's something available to suit every need, well… almost every need. Read a full review of The St. Kitts Marriott Restaurants.
Kids Club
The St. Kitts Marriott Resort offers one of the most fun and educational kids' programs in all of the Caribbean. Guests ages 5 through 12 can enjoy the resort's kid-friendly spots while they learn about the islands interesting people, places, and wildlife. Read a full review of Pirates of St. Kitts Kids Club
Meeting Facilities
The St. Kitts Marriott Resort offers some 38,000 square feet of meeting space providing a wide range of options for event planning, including the 5,673 square-foot Royal Ballroom that can accommodate up to 700 guests for meetings or up to 450 for banquets and can be divided into three sections. Additional meeting rooms provide another 17,000 square feet of space. Meeting facilities also include indoor and outdoor terraces and an executive boardroom, all of which can be reserved for receptions and events. Read a full review of the St. Kitts Marriott meeting facilities.
How to Get There
St. Kitts is accessible from North America on non-stop flights from Miami five days a week on American Airlines and from Charlotte once a week on U.S. Airways. American Eagle offers flights from more than 20 U.S. cities connecting through San Juan and Air Canada offers a weekly flight connecting through Antigua.
Direct charter service is offered weekly by Signature Vacations and My Charter from Toronto and Excel Airways from London-Gatwick.
All flights arrive at Robert L. Bradshaw International Airport, located two miles from Basseterre and four miles from the St. Kitts Marriott Resort and The Royal Beach Casino.
Contact
St. Kitts Marriott Resort and The Royal Beach Casino 858 Frigate Bay Road Frigate Bay, St. Kitts & Nevis; Phone: (869) 466-1200 Reservations: (800) 223-6388 Group sales: (888) 778-4722; FAX: Sales and reservations: (869) 466-3881, 2405 Guest fax: (869) 466-1201 Marriott St Kitts Website
How Many Rooms Does Marriott St Kitts?
St Kitts Marriott & Royal Beach Casino Hotel Services & Facilities
| Commission | Rooms | Rates |
| --- | --- | --- |
| 10% | 389 | $332-$588 |
Is St Kitts Safe?
Tourists are generally safe in St Kitts & Nevis but they can still be targets of petty crime.
What Country Owns St Kitts?
Along with the island nation of Nevis, Saint Kitts was a member of the British West Indies until gaining independence on September 19, 1983.
What Can You Do In St Kitts?
15 Best Things to Do in St. Kitts and Nevis:
Brimstone Hill
Mount Liamuiga
Oualie Beach
Black Rocks
St. Kitts Scenic Railway
Romney Manor
The Old Road Fisheries, Old Road, St. Kitts
Royal St. Kitts Golf Club